Dear interested people,
Starting in December, a history workshop will be launched as part of Common Voices – the multilingual editorial team at Radio Corax. It offers people with experiences of flight and migration the space to deal intensively with the topics of National Socialism and the Holocaust for a year. We also want to look at: Which consequences of National Socialism reach into the present day? How can knowledge about National Socialist history and the Holocaust help us to categorize racist and anti-Semitic hostility in everyday life? What does remembering the past look like and what other forms of remembrance could there be?
Radio reports and interviews are our tools for researching and making history audible. In a group of about ten people you will learn how to make radio, visit different places of history in Saxony-Anhalt and Thuringia and talk to contemporary witnesses and experts about their memories and experiences of National Socialism.
The project is aimed specifically at people with a refugee or migration background who live in Halle and the surrounding area. You do not have to speak and understand German well, because interpreters will always be present during the project. Registration is possible until November 30. More (multilingual) information and dates for info events will follow soon at:
www.wir-erinnern.radiocorax.de
Does this appeal to you? Do you have any questions? Then send an e-mail to:
Information events will be held on 18 and 27 October.
on 18.10 at 16 o'clock at the WELCOME Treff (of the volunteer agency Halle-Saalkreis e.V., Geiststraße 58)
and
on 27.10 at 16 o'clock in the Neustädter Passage 13
Here you can learn more about the project, ask your questions and we can get to know each other.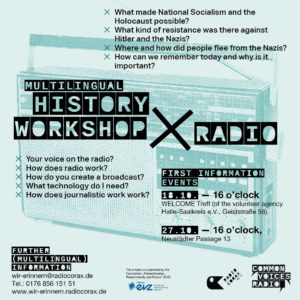 The project is funded by the Foundation Remembrance, Responsibility and Future (EVZ).